People of Clark & Karsh
Brad Clark, a licensed architect for over 30 years, received his degree in architecture in 1983 from the College of Environmental Design at the University of California at Berkeley. He has worked on both public and private projects, including major residences, multi-family housing, commercial buildings, and large scale regional and urban master plans. He has managed over 20 high-end residential projects throughout all phases of architectural design and construction, including: permitting and planning, design development, construction documents, construction administration, and executive architectural work. Those projects ranged from $2,000,000 to $30,000,000 and from 5,000 to 20,000 square feet, and required extensive coordination with teams of consultants, engineers, and contractors, as well as top designers from Los Angeles and New York.
Martha Karsh is a graduate of the University of Virginia (1978) and Virginia Law School (1981). After a legal career, including construction law and litigation experience, and extensive non-profit work, she returned to her lifelong passion for architecture, design, and construction. A successful, seven-year collaboration as part of a design and construction team on a complex, multi-phase residential project led Clark and Karsh to found their firm in September 2009. Ms. Karsh is also deeply engaged in supporting college financial aid and excellent K-12 education for underserved communities. She currently serves on the boards of the national KIPP Foundation and is a trustee emerita of the University of Virginia Law School Foundation. She chairs the KIPP LA Trustees and KIPP LA 2020, a $70 million growth campaign for KIPP in Los Angeles.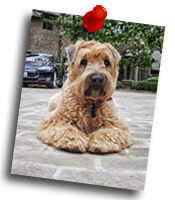 Beth Goldstein graduated from the University of California at Los Angeles with a dual BA in Art History and Psychology (2003) and a Masters in Library and Information Science (2005). An estate manager for the Karshes with 10+ years of experience, she also manages the financial and administrative side of Clark & Karsh and is a Program Officer for Karsh Family Foundation.
Sully, a wheaten terrier with over ten years of construction site supervision experience, is the office dog.